Do's & Don'ts of Estate Planning for Millennials
Date:
Tuesday, June 28, 2022
Speaker:
Christine S. Wakeman, JD
Registered for this event? Login now to view additional event details.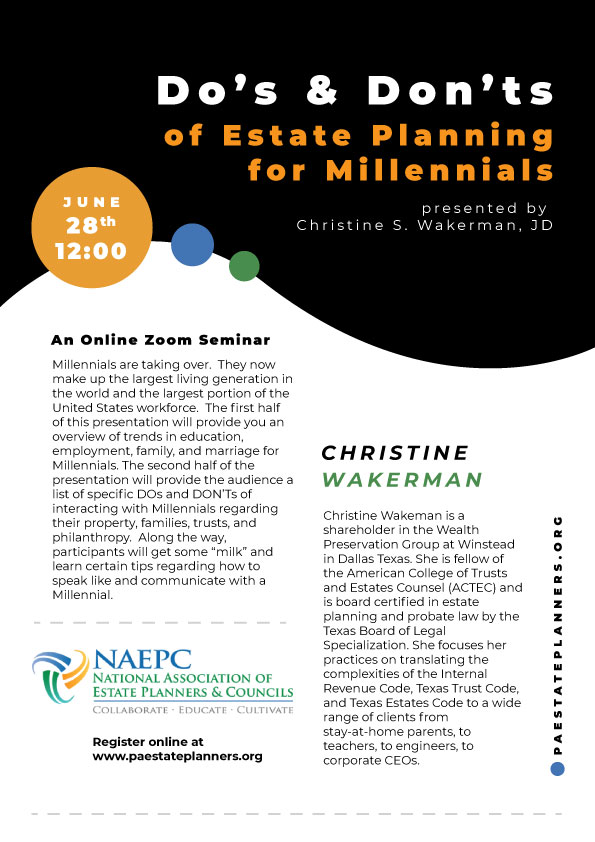 Millennials are taking over. They now make up the largest living generation in the world and the largest portion of the United States workforce. The first half of this presentation will provide you an overview of trends in education, employment, family, and marriage for Millennials. The second half of the presentation will provide the audience a list of specific DOs and DON'Ts of interacting with Millennials regarding their property, families, trusts, and philanthropy. Along the way, participants will get some "milk" and learn certain tips regarding how to speak like and communicate with a Millennial.
Christine Wakeman is a shareholder in the Wealth Preservation Group at Winstead in Dallas Texas. She is fellow of the American College of Trusts and Estates Counsel (ACTEC) and is board certified in estate planning and probate law by the Texas Board of Legal Specialization. She focuses her practices on translating the complexities of the Internal Revenue Code, Texas Trust Code, and Texas Estates Code to a wide range of clients from stay-at-home parents, to teachers, to engineers, to corporate CEOs.